The Land Report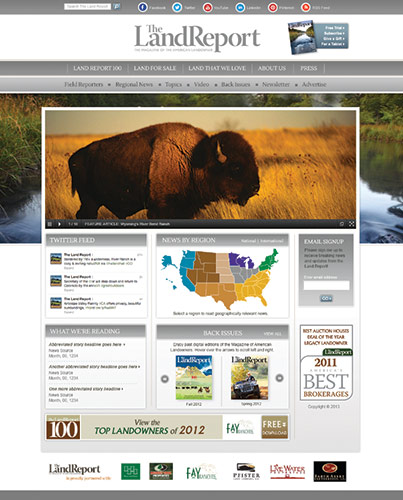 The Land Report magazine provides news, information, and insight into America's land for existing and potential landowners. It profiles passionate landowners, identifies investment opportunities and explains ways to improve and conserve land. With a circulation of over 50,000 and a fast growing digital world, The Land Report invited Desert Elements to redesign a website what would not only retain their current readership base, but also attract new subscribers and well as advertisers to their brand.
The biggest challenge with any publication website is organization of massive amounts of content. In this case, that came in the form of actual magazine editorial, as well as advertising banner ads that needed integrate into the design of the homepage and throughout. The client also required Desert Elements to select, customize, and integrate a full backend banner serve program that allows for robust tracking and reporting.
Our solution resulted in a clean design that features the vistas and landscapes of the properties the magazine highlights, a "News by Region" module that allows visitors to access relevant content quickly, a real-time Twitter feed to display what's trending, and a robust 'Back Issues' section that offers accessibility to publications gone by.
In addition to this site being fully equipped with the ability to completely manage all content, it's built in a responsive format that provides optimum viewing on all smartphones, tablets, computers alike.